Farm Camp offers a traditional summer camp experience on a real working farm. We work to create a fun and safe environment that encourages independence while nurturing lasting friendships. At a time when children are increasingly surrounded by smart phones, computers, television, our goal is to get campers outside, actively creating, playing and learning. Your child will be a hands-on, active participant in our farm community, with the freedom to choose their own activities every day.
Our camp is located on 500 lush acres of redwood trees, creeks, lakes, and rolling coastal foothills, 1.5 miles from the Pacific Ocean. We are nestled in beautiful Sonoma County, providing many opportunities to explore and appreciate the land. Campers play an integral role in caring for the animals and garden to help provide food for the camp, therefore bringing the freshest ingredients from the farm to the kitchen and ultimately, the table.
Since 1952, we have taught respect for and love of nature. At Farm Camp, we minimize the impact we have on the earth, practicing and teaching environmental sustainability. Our program focuses on promoting a positive self-image, encouraging friendships and community, and practicing a healthy lifestyle. Ultimately, our goal is to have these experiences, friendships and laughter stay with campers the rest of their lives.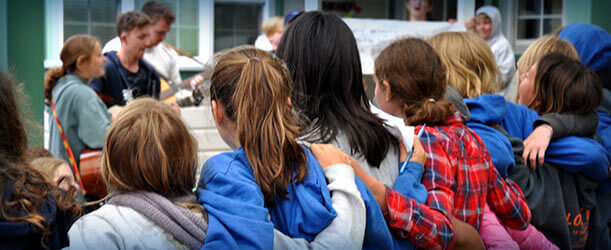 Farm Camp's Core Values and Beliefs
We are dedicated to building an empowering and enduring farm camp

Stewardship of our environment and our diverse community of people is our higher calling

Nature is central to humanity and is our source of spirituality, guidance, healing, comfort, understanding, inspiration, and rejuvenation

Happiness, a feeling of balance and fulfillment, is fundamental to our lives

Having fun is a stepping stone to achieve happiness

Positive attitudes are a conduit to resiliency and self-esteem, contributing to the ability to live life to the fullest. Responsibility and hard work are significant contributors to the process.

We believe in respect, compassion and the interdependence among our community, our environment and all living things, our universe

We are committed to lifelong learning and adapting to change

Camp is a vital developmental and educational experience that should be accessible to all children

We aim to model integrity as a cornerstone of our personal and professional lives

Community is the foundation of our lives and our worlds

Living, working, and playing together on a farm nurtures the soul and spirit of people of all ages, backgrounds and abilities
Our Purpose:
To nurture and model the goodness of the human spirit by sustaining and growing this unique farm camp community.